Send Automated Follow Up Emails with Mail Merge from Gmail
Never drop another opportunity ever again!
Get 52% increase in response for your emails
Schedule up to 10 follow-up stages
Use a mail merge to send bulk email messages
Track replies, opens, and clicks
Free templates to choose from

Integrated into Gmail Send campaigns directy from Gmail!

Want to get a 52% increase in response rate from your cold outreach emails?

Set up your outreach emails in an automated sequence now.
Here's how it works:Schedule a series of up to 10 automated emails (i.e. stages).

Gmail Auto Follow Up tracks who opens or replies to your messages.

You decide whether to send subsequent emails based on what they do.
Integrated with Gmail
Gmail Auto Follow Up is built to work right out of Gmail, and more specifically, is built for Gmail and G Suite email accounts. Once you've installed the Chrome extension, you can build a sequence of email messages with just a few clicks. There is no need to log into a separate email service or website to manage your sales email campaigns.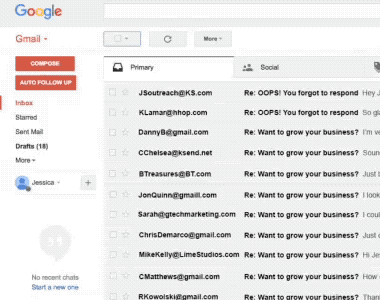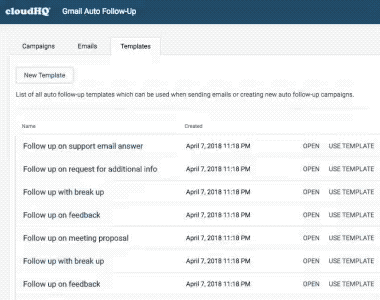 Messages Come From Your Gmail Account
Experience a higher open rate in part because your email sends directly from your email address, instead of from a third-party account on your behalf. That means that your email messages are sent directly from your Gmail account, and are therefore deemed as authentic according to Google, which often classifies your emails as a "primary tab" email, versus a "social" or "promotion tab" email. It basically means that your emails have a higher chance of being seen by your email recipient.
Create Automation Follow up Templates
After setting up any of your email sequence responses, you can actually save those email responses as a template so that you can reuse them in 1 click of a button.

This allows you to easily craft an email with an identical (yet, editable) email message to a new group of users in the future. This is amazing for anyone using mail merge so that you can send outreach messages to a new group of recipients using the same content and schedule as you did in the past.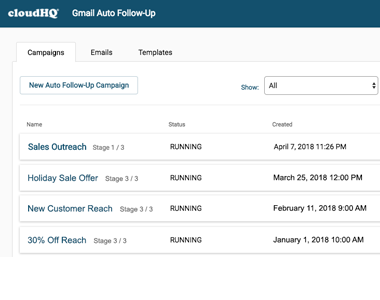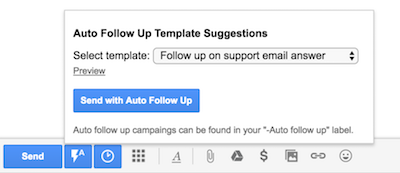 Send Individual Emails with Auto Follow Up
Sometimes you need to follow up on individual emails. You can use the Auto Follow Up Templates that you've created and saved where you want to send out a canned response. For example, maybe a customer service email template is helpful saying something like "Please send us the logs you have collected as soon as you can" or maybe for lawyers who need more information form their forgetful clients. This is a powerful time saver auto response feature.
Free Email Templates (Or Create Your Own!)
A free library of email templates is available for you to use. You can also design and save your own template for future use, as described above. The templates we offer are fully editable, and also compatible with HTML Editor for Gmail, if you choose to edit anything in HTML. And that's not all, we're committed to adding new templates all the time. If you notice that you need a template, and we don't have it, just let us know! We're excited to serve you better every day.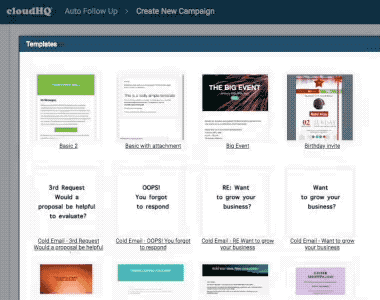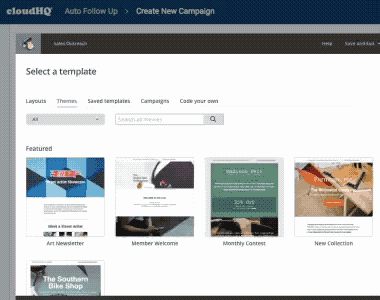 Import MailChimp Templates
Did you have any specific MailChimp email templates that you used and loved and want to import? Well, we understand how you want to keep your branding consistent: logos, fonts, colors, etc. And that's why we let you import your Mailchimp templates. Just select the template you want, add your message, and send as you would with any other email. We're here to empower you and your outreach.
Free Video Email for Gmail
Video email is not for showing your screen, but rather to show yourself and say whatever you want to say. You can do this right from Gmail- just click on the movie icon button, and start your video. This is an excellent way to stand out from the crowd for job seekers, realtors, sales professionals, and even artists. Video is just another medium that provides a richer experience to personalization and lets your audience get to know you better.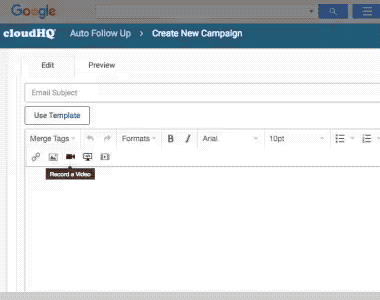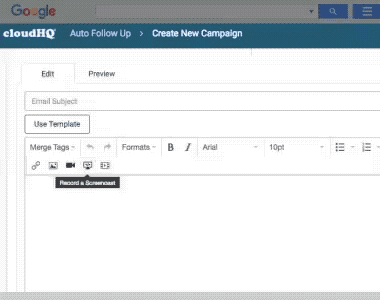 Free Screencast for Gmail
Get access to free screencasting so that you can show your recipients something on your screen. Again- all this is without ever leaving your Gmail. Just click on the screen icon button, and start your screencast and you can include that screencast movie right in your email!
'Book Me' Schedule Meeting Link
Do you want your email recipients to be able to book a meeting with you when you're free? Not a problem at all. That's just a feature of Gmail Auto Follow Up. Just use your merge tags to link your Gmail calendar to your email, set up your desired meeting times and dates, and your email recipients will be able to choose a time that's good for both of you. No more back and forth emailing to find a date and time. This is such an essential part of sales- so please make sure you take advantage of this feature if this is something that you think can be beneficial for you.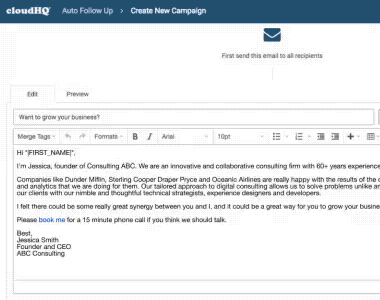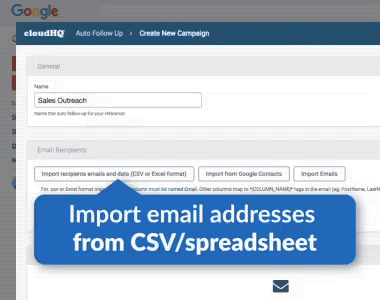 Mail Merge from CSV or Excel
Email addresses can be:
Manually uploaded with a cut and paste, or simply typing them in,
Easily imported by your Google Contacts list
Imported by a list of emails from a .CSV or Microsoft Excel file which can be uploaded from:

LinkedIn
Salesforce,
And more! Just ask us if you need any help.
Personalize by Name, Email Address, or Other Data
Merge tags are awesome! They allow you to dynamically add personalized content to your email. Drop a new column into your email contact list that you uploaded, and have access to that in your email. We'll take care of the rest.

For example, if you include something as simple as a subscriber's first name, their social link, or even something more complex like a salutation in their native language, all of that is possible with Gmail Auto Follow Up. We encourage you to give all your emails a personal touch by merging a name, an email address, or any other data that you have in a CSV or Excel file, where you think it'll help personalize whatever it is that you want to say.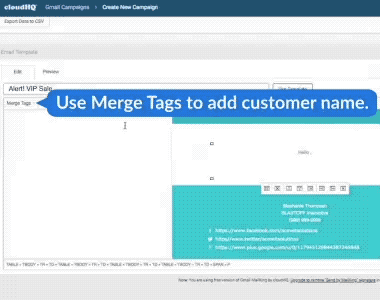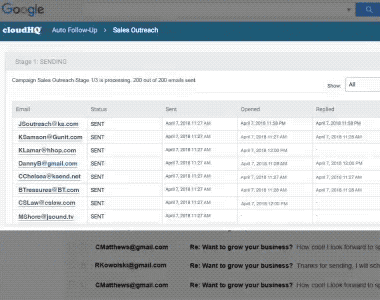 Unlimited email tracking
You have no limited email tracking when using our Gmail Auto Follow Up. Whether you're using a premium or free version, you'll always be able to know exactly when your email recipients read your email-- giving you the ability to take any necessary follow up actions you see fit.
Unlimited link tracking
The unlimited link tracking feature is one of several email analytics tools that we offer for free. By detecting whether or not a person clicked on your link, it lets you to know if your email recipient is genuinely interested in what you sent them.

You can check when and how many times they opened your link, and be ready to follow up knowing just how interested they are. If they didn't click on your link, you know they might not be interested in what you're sending them.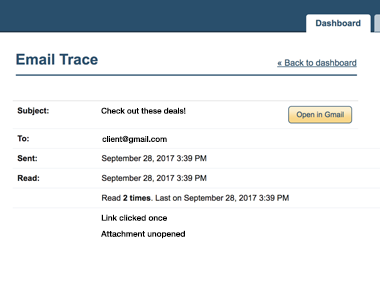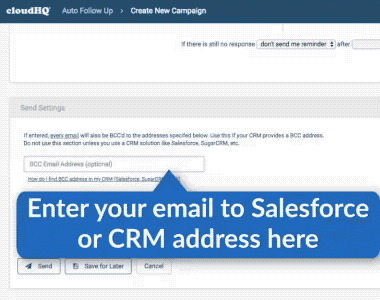 Track All Messages in Your CRM
When setting up your emails, you can easily keep your CRM updated. All you need to do is blank copy your CRM's BCC email address like Salesforce, Zoho, etc.
Unsubscribe Link
Are you sending this cold email to unsolicited people, and have a commercial inclination to want to sell something vs simply talking with them? If so, you'll want to include an "unsubscribe link" at the bottom of your email, and it's available to you via the Merge Tags button. It simply gives people the ability to opt out of your emails if they want to opt out. In our experience, this is often necessary if you're emailing a large group if unsolicited emails for a commercial purpose.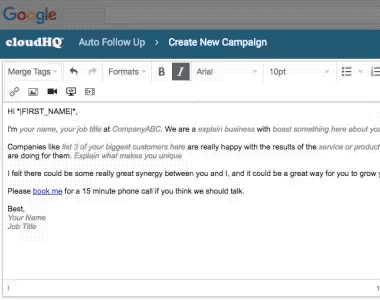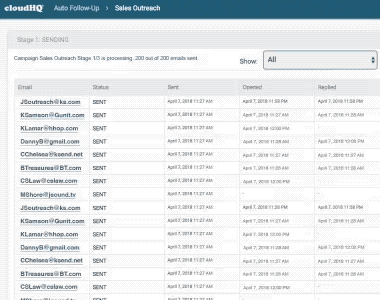 Dashboard
Do you need a high level overview dashboard to see whether or not your emails are being opened? This free dashboard functionality keeps a record of all your emails sent. You can check the history of your tracked emails in one, convenient place. Filter all your messages that haven't been opened, and you'll be able to know what actions to take next. Click the "read emails" option, and you'll know which of your contacts are taking you seriously.
Email List Builder
Extract email addresses just by searching for past conversations in your Gmail. For example, you can search for all users, or user who opened your last email.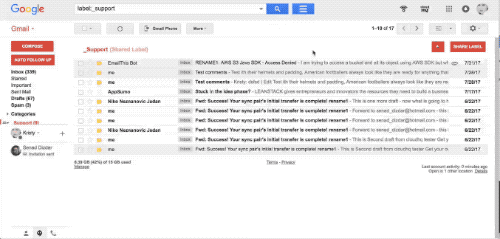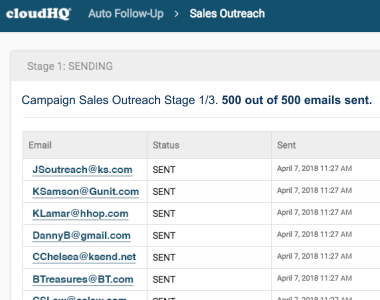 Never Hit Gmail Send Limits
Gmail has send limits that you should be aware of. While you can send bulk emails of up to 500/day (or up to 2,000/day for G Suite users), using our unique distribution technology, we'll make sure that you never hit those send limits so that your email address never violates Gmail's send limits, and always remains in good standing with Google.

You can even send email campaigns of up to 10,000 email recipients-- Gmail Auto Follow Up will automatically organize sending them over the course of multiple days for you. When you send your emails with Gmail Auto Follow Up, you never need to worry about keeping within your Gmail send limits- we do that for you.
Premium Version Available
We designed this tool with as few limitations as possible - including price limitations. Because of that, Gmail Auto Follow Up is 100% free for up to 200 email messages, with unlimited use of any email sequences (we offer up to 10 email sequences). For anyone who needs to use this tool for over 200 email messages/mo, please consider upgrading for a very minimal fee .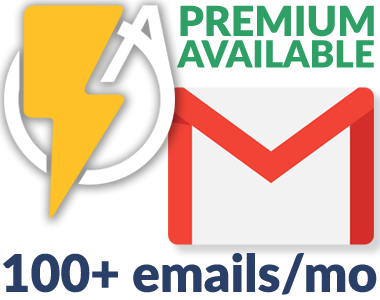 ---
Who Should Use Gmail Auto Follow Up?
Sales
Want to get a 52% increase in response rate from your cold outreach emails? The only way to do that is with a sequence of automated outreach emails. Don't risk letting the ball drop by not getting through to your prospect, and automate your Gmail outreach. With Gmail Auto Follow Up, your email messages will automatically be sent for you, based on your email recipient's actions.

Customer Support
Automatically follow up on your email sent to your customers / clients. For example, if you requested some addional info you can setup auto follow up to ping your customer about that.
Recruiters and Head Hunters
Send email campaigns to your list of candidates. And automatically send follow up email to nurture their interest and keep them informed about other oportunities.

Legal
Sometimes you need your clients to send you addinoal documentations. And in mane cases the matters are very time sensitive. So you can set up an automatic follow up when you send email requesting addional documentations.
PTA, Churches, etc
Send simple and short email campaigns to members of your organization to RSVP to event invitations or to request addional information. Automatically follow up if you members of your organization did not reply to your request on time.